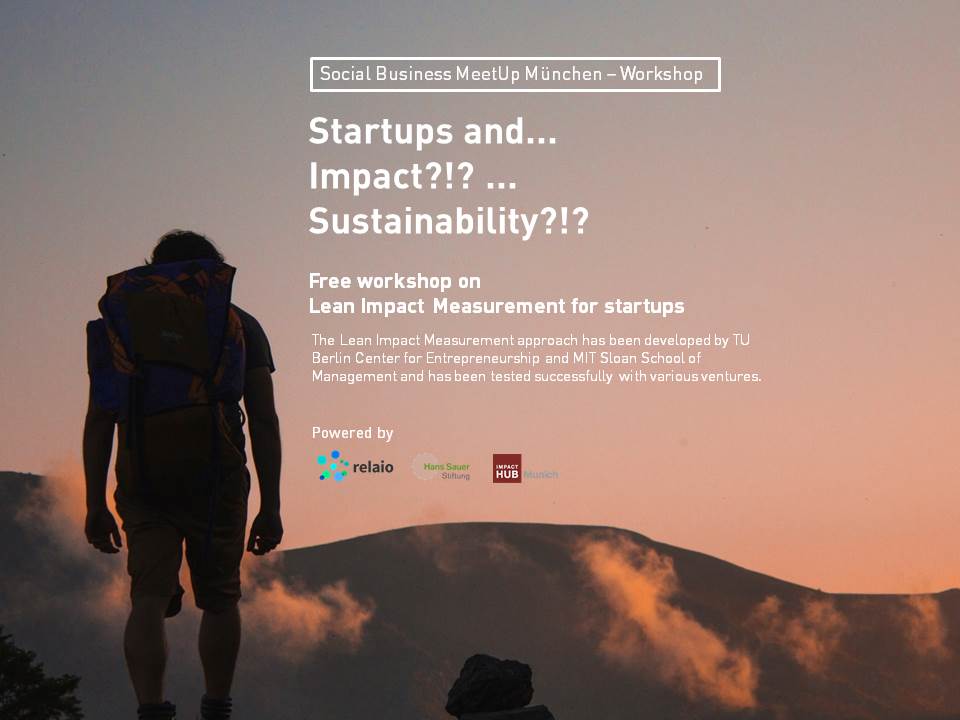 Startups and… Impact?!? …Sustainability?!?
– Free workshop on Lean Impact Measurement for startups – 
You want do discover and measure your venture´s impact on sustainability? – Join the interactive small group workshop and learn how to pitch and measure your impact. 
During the first half of the day you will hands-on develop your theory of change in interactive working session and practice to pitch.
In the afternoon we will gather data and calculate your impact with our excel-tool to equip you for your next investor pitch. 
For more details on our Lean Impact Measurement workshop see our
– "Startup Impact Measurement Teaser" on youtube: https://www.youtube.com/watch?v=b4Ajto-bLY8&t=0s 
– Website on https://www.startupimpactbenchmark.org/ 
The Lean Impact Measurement approach has been developed by TU Berlin Center for Entrepreneurship and MIT Sloan School of Management and has been tested successfully with various ventures.
Registration: until 8.Juli 2018 by sending an Email to b.lersch@hanssauerstiftung.de (limited places available!)
Time: Wednesday 18.07 from 09:30 – 16:30 lunch break around 13:00)
Location: Impact Hub Munich
What to bring: Computer/Laptop, allowing to open Excel files
Mandatory preparation: Company survey (30 min) + individual participant survey (5 min) for each participant