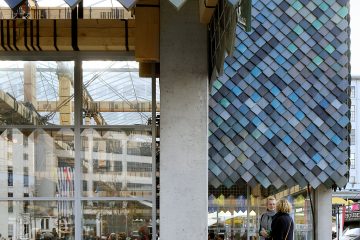 Towards a circular world
In collaboration with Dutch architects Bureau SLA and Overtreders W, Arup delivered the structural design of the main pavilion for the Dutch Design Week 2017 in Eindhoven.
Made from borrowed materials, our structural design implicated a circular design with a close to zero carbon footprint. The building with a total space of some 250 square meters followed the principles of the circular economy. We designed a safe building without damaging the materials in any way and applied construction techniques that didn't use glue, screws or nails. Keeping the materials at their highest value. Our calculations were validated through several experiments in cooperation with the Technical University Eindhoven.
The frame was built up from standard, off-the-shelf, timber sections of different trade lengths tied together with steel straps to make longer and stronger composite elements. The columns consisted of seven-meter tall prefab concrete foundation piles. Steel rods from a demolished office building were reused as cross bracing. The composite timber beams, concrete columns and cross bracing were tied together using high capacity ratchet straps to create a safe and sufficiently rigid structure to withstand strong wind conditions. The glass roof was borrowed from a greenhouse supplier and the lower glass facade was saved from a demolished office building. The plastic shingles on the façade were made from plastic waste collected by the inhabitants of Eindhoven.
After the event, the building was successfully dismantled, and all the materials were returned to the suppliers. By demonstrating ways of borrowing and returning materials, the pavilion is a great example of circular design and construction.