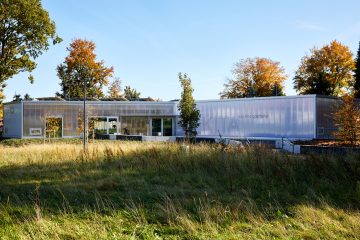 Day-care center
"Kita Karoline Goldhofer" originates from the Reggio pedagogy approach which is embedded in the concept. The founder family's old house became a part of the day-care centre. Reuse and recycling, as one of the pedagogy's basic ideas, were introduced to the children as social
and ecological values.
For this purpose, the three existing building sections got preserved, exempted and encased under a new shell of polycarbonate multiwall sheets. The resulting spaces are part of the sustainable, cybernetic energy concept. The facade, as a "solar air collector", allows the existing walls to remain uninsulated and to be experienced as a historical layer. The energetic renovation has an architectural-spatial approach.
The project supports circularity in the built environment.
The transferability of the concept lies in the architectural-constructional solution of the significantly relevant questions of how to deal with used building materials and how to combine energy-saving and CO2 neutrality with benefit for the space and usability. The interaction
between the existing building stock, shell, use and energy is decisive; the further development of the insulation question is also important.
The demonstration value of the "Kita Karoline Goldhofer" is high. Working with existing buildings is becoming increasingly important,
especially in the context of climate protection. With its innovative and future-oriented energy concept, the day-care centre is considered
a best practices project for further building projects.
www.heilergeiger.de
post@heilergeiger.de