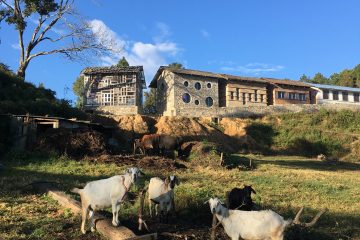 Himalaya school extension
After Nepal's earthquake in 2015 SUPERTECTURE designed and built four additional rooms in the school of the mountain village Dhoksan
in Nepal. In order to display some of Nepal's unlimited possibilities for reused, recycled, regenerative and circular construction technologies,
we decided to build every room as an individual house – every "class house" built with different innovative and underestimated materials:
free donated "earthquake" bricks, earth+bamboo+straw, "earthquake"-rocks + rocky slades, 700 old "earthquake"windows.
In the context of a social building project, we realised a variety of different examples for circularity in Nepals built environment. The primary
aspects of our circularity approach were reutilisation of manmade construction elements, as well as the research and application of natural
degradable and renewable building materials such as earth, bamboo and straw.
A secondary aspect of our circularity approach to building was the creative diversity of many smart and innovative ideas for recycled or
degradable houses within a single primary school extension complex. Our concept did not focus on a single circular building solution
but a wide-ranging and colourful building exposition. The innovation of our architecture consists of the individual material approaches and
a radical arrangement of many different ideas under the greater umbrella of broad possible circularity in Nepal's built environment.
Besides the architecture itself, it is innovative for young architects to undertake a design and construction project with sufficient time for
on-site research and analysis.
www.supertecture.com
pr@supertecture.com