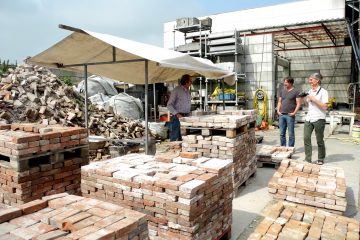 Conservation, conversion and the creative use of materials
The federal association has been supporting the reuse of used building materials, residual building materials from construction sites and measured building products since 2011. The prevention of waste is our top priority. Therefore it is our target to raise awareness of the true value of our built environment. Conservation, conversion and the creative use of materials for recycling are practiced and passed on.
For new construction projects, dismantling is recommended and a material passport is required. On our homepage, knowledge is shared and information about current developments are provided. In addition, student work is accompanied and there is always room for questions!
Direct reuse not only avoids waste; it also saves energy and reduces CO2. In addition, the use of space for raw material extraction and landfill are becoming increasingly important. Regional systems are stimulated to pool competencies and powers. Through national and European
activities, many projects have been initiated and supported in their practical work. The knowledge gained is passed on, discussed and updated through lectures and further training offers. The networking of actors is particularly important to us. In addition, the first component catalogue for component exchanges was created, which today is used by students and research projects for the exchange of information.
www.bauteilnetz.de
info@bauteilnetz.de